Unlike the One Pound Painting Project easel and sketchbook pages, this is less a "how-to" and more of a "why" page. What else do I bring and what is my reasoning behind them.
MEEDEN Empty Watercolor Palette with Half Pans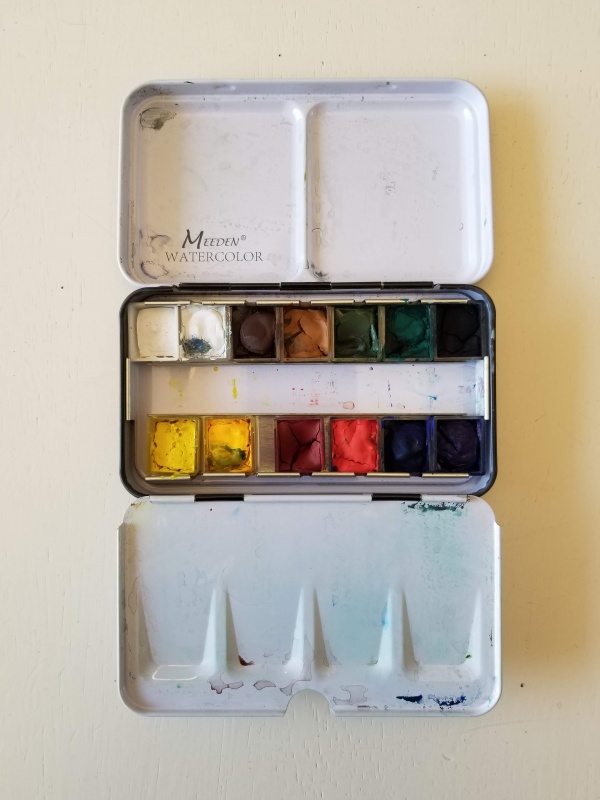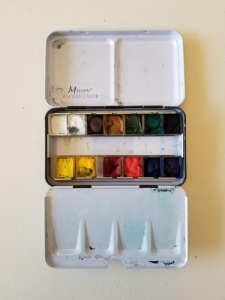 It is incredibly inexpensive, lightweight, and carries more than its fair share. It comes with a dozen half-pans but will hold any standard half or full watercolor pan. You can fit up an extra half pan in each row for a total of 14 pans while retaining the brush storage in the center, or sacrifice the storage to fit an amazing 20-21 pans if you're just addicted to a wide variety of colors. Did I mention it has two mixing surfaces and is magnetic?
Meeden Empty Palette with 12 Half Pans and more extra half pans than you'll ever need.
Weight
158 grams (5.6 oz) with 13 full half-pans
High quality gouache is essentially watercolor paints made opaque through pigment load. Similar to watercolors, you can buy or make "pans" of dried colors and rehydrate them for use. They will handle a little differently than fresh liquid gouache, but that is the tradeoff for not needing to bring a dozen tubes.
The binder and ingredients used makes a difference with how well the gouache handles the drying/rehydration process. Some brands will flake and fall apart if dried in a pan, others might crack but will stay together. From my research M. Graham seems to handle it the best thanks to their use of honey as a binder and thus they are who I use.
The one exception is alizarin crimson, as M. Graham's gouache seems to use the original fugitive pigment instead of the "permanent" variation.
My palette is an expanded split complementary scheme with two pots of white, one for blending with other colors and the other that only gets touched by a clean brush. By having a warm & cool version of each primary, along with earths and greens, I can readily mimic nature in all her glory and brilliance.
Assorted (Modified) Brushes + Water Brush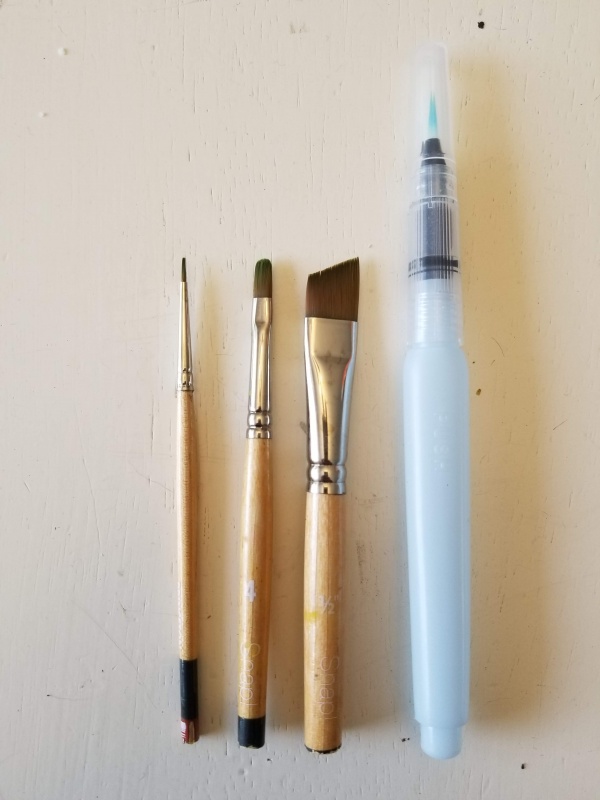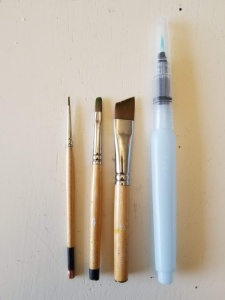 These brushes aren't special, they're meant to be abused. I can fit 1/2″ flat, a medium filbert, and a tiny round for detail work in the Meeden Palette storage slot, though I did have to cut down the handles to fit. I'm experimenting with bringing a Sakura waterbrush along too.
2 oz Squeeze Bottle, Paper Towels, & Plastic Baggie
If I know I'm not going to use my kit for a bit (like backpacking all day), I will carry the 2oz bottle dry, but if it is a short excursion it also carries more than enough water for my needs. Easy to drip water into each pan to re-hydrate gouache paints too. Paper towels are obviously useful, but don't forget a baggie for trash!
3/4″ Mini Spring Clips (optional)
They're optional, but so nice to have! At only 10 grams each and available for about a dollar at any hardware store, they're worth it. Clip your sketchbook to the easel for a little more security or clip a paper towel so it doesn't blow away in the wind.
Joby 5k Gorillapod (optional)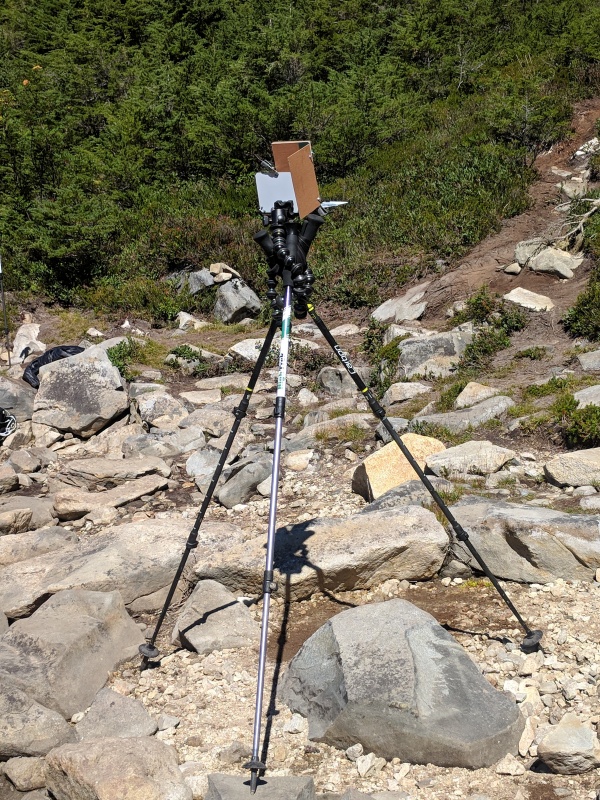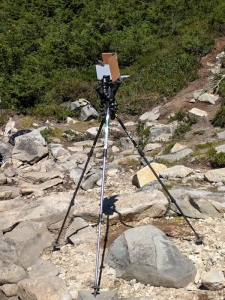 Gorillapod and three hiking poles used to make a standing easel
Weighing in at a massive 738 grams (1.6 lbs) this is the antithesis of the One Pound Painting Project philosophy. Still, more often than not, I bring it when I backpack. You can sit with your back against a tree or rock and wrap it around your knee, wrap it around a fallen log or branch for a standing location,  or twist the legs into weird positions to use a boulder as a stable base. In soft dirt, you can actually make a tripod with hiking poles and use the Gorillapod legs to hold them stable.
That said, there are much lighter weight options out there, including Joby's 1K Gorillapod (197 g / 0.43 lbs) and 3K Gorillapod (393 g / 0.86 lbs). I just happen to have a 5K Gorillapod for my DSLR and can't bring myself to buy a lighter one even though it is overkill.